William Lead
Lead Director
Will Lead has traded in multiple industry domains, predominantly in Africa, for over thirty years. Blue Cowrie Oil was started over five years ago and its growth has been exponential. The focus is on the servicing of the Marine Industry with lubricants, greases and chemicals. The reputation of Blue Cowrie has been forged with the teams reliability and availability and the products integrity and value for money. It has now become a trusted authority and a well known name in the Marine Industry.  
Robin Murugan
General and Technical Manager
Associated with the marine oil industry since 1986 with D L Petroleum the distributors of Ocean Oil and then changed to LubOil Marine (ELF Lubricants). In 2000 moved to Total South Africa and managed the OEM for the Kwa Zulu Natal and the OFS and then was promoted to Head Office to manage the OEM manufacturers in South Africa and their workshops. In 2008 I was instrumental in opening the distribution of Gulf Oil Marine  in South Africa and managed all aspects of the supply to vessels calling in all our south African ports ( Durban, Richards Bay, East London, Port Elizabeth, Mossel Bay, Cape Town and Saldanha Bay. Service is of the utmost important in this industry and I will go the extra mile to supply on time every time.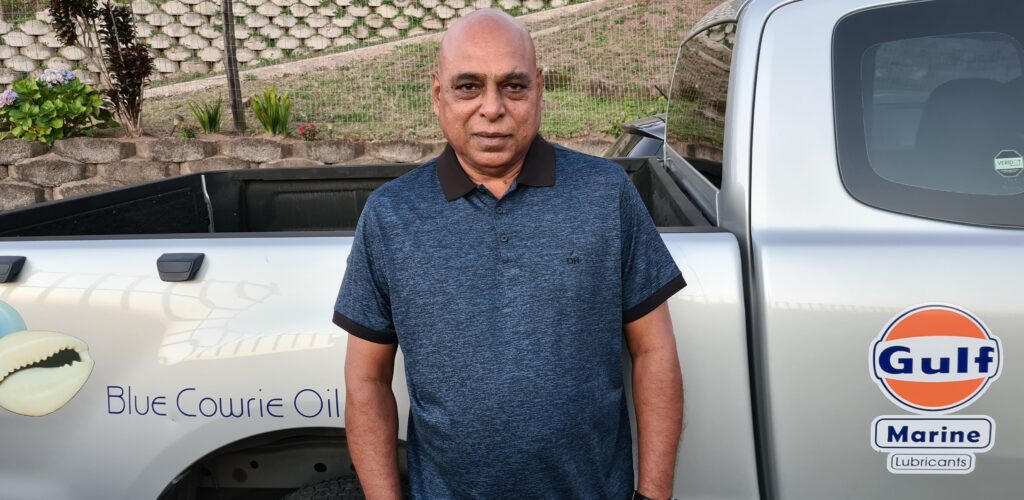 Christo Joubert
Financial Manager
B Com – University Stellenbosch Adv Dipl. in Management Accounting – CIMA London. Christo has 19 year experience in FMCG, having worked for Pioneer Foods (Pty) Ltd & Rainbow Farms (Pty) Ltd in various roles before joining Blue Cowrie Oil.
Patrick Lead
Sales Manager
After 15 years in the Beverage FMCG market with SABMiller & The Coca-Cola Company in senior Sales & Marketing roles in 6 African countries, Patrick chose the challenge of swapping both Industry and market. He & the Sales Team believe in building ongoing customer satisfaction through strong relationships based on trust, superior & responsible product offerings, value & efficient execution with continual improvement through utilizing feedback and innovation.
View our products
Blue Cowrie Oil has been involved in Africa with Oil & Gas, Marine, Mines and Industry for over a decade.
our products
Contact us